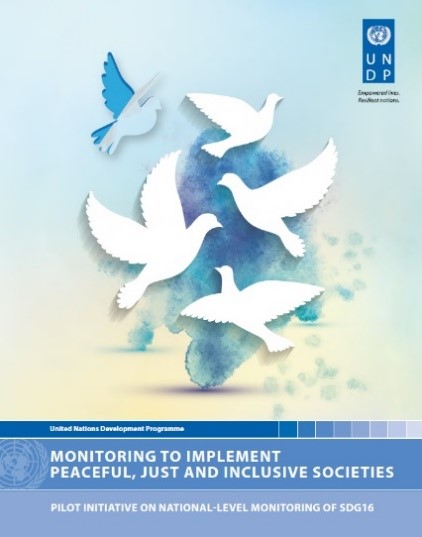 Report on Pilot Initiative on National-Level Monitoring of SDG16 was published in November 2017 and summarizes the information from November 2016 to July 2017. Among other stakeholders, the Administration of Government of Georgia (AoG), Institute for Development of Freedom of Information (IDFI) and United Nations Development Programme (UNDP) contributed to the elaboration of the monitoring report. The initiative involved six countries: El Salvador, Georgia, Indonesia, South Africa, Tunisia and Uruguay. Additionally, this report presents information from Mexico, which was not part of the pilot initiative but simultaneously developed a similar methodology in coordination with the aforementioned countries.
In the framework of the Pilot Initiative the AoG together with IDFI and UNDP and with the financial support from Government of Sweden (SIDA) and the United States Agency for International Development (USAID), established UN Sustainable Development Goals coordination mechanism – SDGs Council with its four thematic working groups, elaborated national document on SDGs – SDGs Matrix, with respective global and national indicators and metadata and scorecard forms, started working on the Electronic Monitoring system, that is expected to launch in 2018 and conducted comprehensive awareness raising activities in Tbilisi and regions of Georgia.
The pilot process aimed to create innovative approaches in the process of implementation of SDG 16 monitoring system. The three main objectives pursued by the pilot countries were to:
1. Develop and implement an inclusive monitoring methodology that includes both government and civil society;
2. Make the monitoring process open and transparent and ensure that data is publicly accessible;
3. Use this inclusive approach to SDG16 monitoring to propel SDG16 implementation, by engaging stakeholders not only in monitoring but also in identifying solutions to the challenges revealed in the reporting.
This report synthesizes the various approaches adopted by participating governments to monitor SDG16 in collaboration with non-governmental actors, the main challenges they faced in doing so, and some lessons emerging from their experiences.
The pilot initiative was led by the United Nations Development Programme (UNDP), in collaboration with the Open Government Partnership (OGP) and with financial support from the United States Agency for International Development (USAID).